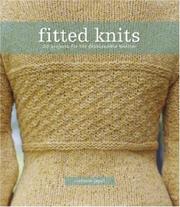 TT
825
.S94
J37
2007
Fitted knits : 25 designs for the fashionable knitter
Cincinnati, OH : North Light Books, c2007.
144 p. : col. ill. ; 28 cm.
Whether you are tall or short, curvy or slender, you deserve clothes that fit you perfectly. Fitted Knits gives you patterns that create well fitted garments designed to accentuate your positives. You simply knit to your measurements, easily adjusting the pattern so it's tailored to your unique shape. You will be surprised at how easy it is to add shaping details that ensure a perfect fit for your figure. There is something her to keep you knitting happily the whole year through, form lightweight summer tanks and tees to shrugs, raps and cardigans perfect for those transitional times, and, of course, warm and cozy sweaters, vests and coats to get you through the cold months. Inside this book you will find [1] a how to fit your knits guide that shows you exactly how to adjust the patterns in the book to get a perfect fit [2] 25 wearable fashion inspired knits for all seasons [3] a user-friendly skill level guide so you know what to expect with each pattern [4] an essential information section including a knitting abbreviations key, a knitting needle conversion chart, a helpful reference library and a list of great knitting web sites.
Available
Knitting books
1 copy available at Textile Center
| | |
| --- | --- |
| ISBN: | |
| Author: | |
| Title: | Fitted knits : 25 designs for the fashionable knitter / Stefanie Japel ; photography by Brian Steege. |
| Publisher: | Cincinnati, OH : North Light Books, c2007. |
| Physical: | 144 p. : col. ill. ; 28 cm. |
| Summary: | Whether you are tall or short, curvy or slender, you deserve clothes that fit you perfectly. Fitted Knits gives you patterns that create well fitted garments designed to accentuate your positives. You simply knit to your measurements, easily adjusting the pattern so it's tailored to your unique shape. You will be surprised at how easy it is to add shaping details that ensure a perfect fit for your figure. There is something her to keep you knitting happily the whole year through, form lightweight summer tanks and tees to shrugs, raps and cardigans perfect for those transitional times, and, of course, warm and cozy sweaters, vests and coats to get you through the cold months. Inside this book you will find [1] a how to fit your knits guide that shows you exactly how to adjust the patterns in the book to get a perfect fit [2] 25 wearable fashion inspired knits for all seasons [3] a user-friendly skill level guide so you know what to expect with each pattern [4] an essential information section including a knitting abbreviations key, a knitting needle conversion chart, a helpful reference library and a list of great knitting web sites. |
| Subject: | |
| Subject: | |
| Link: | |
| Field | Ind | Subfield | Data |
| --- | --- | --- | --- |
| 001 Control No | | | 7800 |
| 005 LastTransaction | | | 20170720174427.0 |
| 020 ISBN | | $a ISBN | 978-1-58180-872-8 |
| 100 ME:PersonalName | | $a Personal name | Japel, Stefanie. |
| 245 Title | 0 | $a Title | Fitted knits : |
| | | $b Remainder of title | 25 designs for the fashionable knitter / |
| | | $c Statement of responsibility | Stefanie Japel ; photography by Brian Steege. |
| 260 PublicationInfo | | $a Place of publication, dist. | Cincinnati, OH : |
| | | $b Name of publisher, dist, etc | North Light Books, |
| | | $c Date of publication, dist, etc | c2007. |
| 300 Physical Desc | | $a Extent | 144 p. : |
| | | $b Other physical details | col. ill. ; |
| | | $c Dimensions | 28 cm. |
| 520 Summary | | $a Summary, etc. note | Whether you are tall or short, curvy or slender, you deserve clothes that fit you perfectly. Fitted Knits gives you patterns that create well fitted garments designed to accentuate your positives. You simply knit to your measurements, easily adjusting the pattern so it's tailored to your unique shape. You will be surprised at how easy it is to add shaping details that ensure a perfect fit for your figure. There is something her to keep you knitting happily the whole year through, form lightweight summer tanks and tees to shrugs, raps and cardigans perfect for those transitional times, and, of course, warm and cozy sweaters, vests and coats to get you through the cold months. Inside this book you will find [1] a how to fit your knits guide that shows you exactly how to adjust the patterns in the book to get a perfect fit [2] 25 wearable fashion inspired knits for all seasons [3] a user-friendly skill level guide so you know what to expect with each pattern [4] an essential information section including a knitting abbreviations key, a knitting needle conversion chart, a helpful reference library and a list of great knitting web sites. |
| 541 Acq Source Note | | $a Source of acquisition | Donation Rebecca Ganzel-Thompson. |
| 650 Subj:Topic | | $a Topical term | Knitting |
| | | $x General subdivision | Fitted and sized patterns. |
| 650 Subj:Topic | | $a Topical term | Knitting |
| | | $x General subdivision | Sweaters. |
| 852 Holdings | | $a Location | TC |
| | | $p Barcode | 55218 |
| | | $9 Cost | $22.99 |
| | | $h Classification part | TT 825 .S94 J37 2007 |
| 856 ElectronicLocat | 4 | $3 Materials specified | Cover image |
| | | $u Uniform Resource Identifier | https://covers.openlibrary.org/b/id/843057-M.jpg |