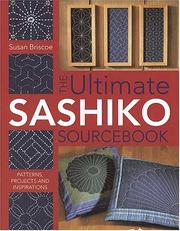 TT
835.J37
B75
2005
c1
The Ultimate Sashiko Sourcebook
Iola, WI : KP Books, 2005.
27 cm. 128 p. : col. ill. ;.
Contents: Introduction; History; Getting started; Projects; Pattern library. Sashiko means "little stab," which accurately describes the simple running stitch required for this traditional technique. Originally invented for warmth and economy, sashiko combines country style with intricate designs. In this comprehensive sourcebook, talented needlewoman Susan Briscoe shares everything you need to know to get the most from sashiko, from selecting fabrics and threads to marking and stitching the patterns. Ten easy project chapters provide the perfect introduction to the incredible library of sashiko designs; these are followed by a gallery of sashiko masterpieces for further inspiration.
Available
Quilting books
1 copy available at Textile Center
| | |
| --- | --- |
| ISBN: | |
| Author: | |
| Title: | |
| Publisher: | Iola, WI : KP Books, 2005. |
| Physical: | 27 cm. 128 p. : col. ill. ;. |
| Notes: | Includes index, Inspiration gallery; acknowledgements, bibliography, suppliers, and Sashiko pattern index. |
| Summary: | Contents: Introduction; History; Getting started; Projects; Pattern library. Sashiko means "little stab," which accurately describes the simple running stitch required for this traditional technique. Originally invented for warmth and economy, sashiko combines country style with intricate designs. In this comprehensive sourcebook, talented needlewoman Susan Briscoe shares everything you need to know to get the most from sashiko, from selecting fabrics and threads to marking and stitching the patterns. Ten easy project chapters provide the perfect introduction to the incredible library of sashiko designs; these are followed by a gallery of sashiko masterpieces for further inspiration. |
| Subject: | |
| Subject: | |
| Subject: | |
| Link: | |
| Field | Ind | Subfield | Data |
| --- | --- | --- | --- |
| 001 Control No | | | 5073 |
| 005 LastTransaction | | | 20170720174427.0 |
| 010 LCCN | | $a Record content licensor | 2004098432 |
| 020 ISBN | | $a ISBN | 978-0-89689-186-9 |
| 100 ME:PersonalName | 1 | $a Personal name | Briscoe, Susan. |
| 245 Title | 14 | $a Title | The Ultimate Sashiko Sourcebook / |
| | | $c Statement of responsibility | by Susan Briscoe. |
| 260 PublicationInfo | | $a Place of publication, dist. | Iola, WI : |
| | | $b Name of publisher, dist, etc | KP Books, |
| | | $c Date of publication, dist, etc | 2005. |
| 300 Physical Desc | | $c Dimensions | 27 cm. |
| | | $a Extent | 128 p. : |
| | | $b Other physical details | col. ill. ;. |
| 500 General Note | | $a General note | Includes index, Inspiration gallery; acknowledgements, bibliography, suppliers, and Sashiko pattern index. |
| 520 Summary | | $a Summary, etc. note | Contents: Introduction; History; Getting started; Projects; Pattern library. Sashiko means "little stab," which accurately describes the simple running stitch required for this traditional technique. Originally invented for warmth and economy, sashiko combines country style with intricate designs. In this comprehensive sourcebook, talented needlewoman Susan Briscoe shares everything you need to know to get the most from sashiko, from selecting fabrics and threads to marking and stitching the patterns. Ten easy project chapters provide the perfect introduction to the incredible library of sashiko designs; these are followed by a gallery of sashiko masterpieces for further inspiration. |
| 650 Subj:Topic | 4 | $a Topical term | Sashiko stitching |
| | | $z Geographic subdivision | Japan. |
| 650 Subj:Topic | 4 | $a Topical term | Moyozashi patterns |
| | | $z Geographic subdivision | Japan |
| 650 Subj:Topic | 4 | $a Topical term | Hitomezashi patterns |
| | | $z Geographic subdivision | Japan. |
| 852 Holdings | | $p Barcode | 50214 |
| | | $h Classification part | TT 835.J37 B75 2005 c1 |
| | | $9 Cost | $24.99 |
| | | $f Coded location qualifier | Donation Amy Baum & Tom Segal |
| | | $v | TCM |
| | | $a Location | TC |
| 852 Holdings | | $p Barcode | 50318 |
| | | $h Classification part | TT 835.J37 B75 2005 c2 |
| | | $9 Cost | $24.99 |
| | | $f Coded location qualifier | Donation Amy Baum & Tom Segal |
| | | $v | TCM |
| | | $a Location | TC |
| 856 ElectronicLocat | 4 | $3 Materials specified | Cover image |
| | | $u Uniform Resource Identifier | https://covers.openlibrary.org/b/id/696062-M.jpg |